About Me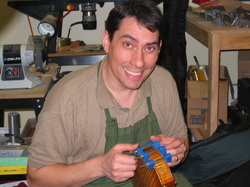 As a child, Jacob was first inspired to play the violin while watching Izhak Perlman make a guest appearance on Sesame Street . That inspiration led to a music degree from Brigham Young University and completion of Luthier training at The Violin Making School of America in Salt Lake City. He spent his final year of school working in the Prier Violin Shop.

Then Jacob and his wife relocated to Lititz, Pennsylvania where they opened up shop. While there, he offered lessons and repairs for the local violin community and serviced repair contacts for local universities out of his basement workshop. He also spoke at numerous schools and libraries, and performed in university and professional chamber and orchestral groups. They spent seven wonderful years deep in Amish country working hard and starting a family.

Most recently, they have moved to the Austin area to be near Jacob's family. Part of being near family includes living on the family farm in Niederwald. Shortly after the move, Jacob built his new violin shop. Now, he continues to build new classical instruments and has designed an original electric violin model. He continues to teach lessons and is available to speak to groups about the art of violin making. We are excited about joining the Central Texas violin community.
---